Video Highlights from Decadent Underworld…
From Famefifteen!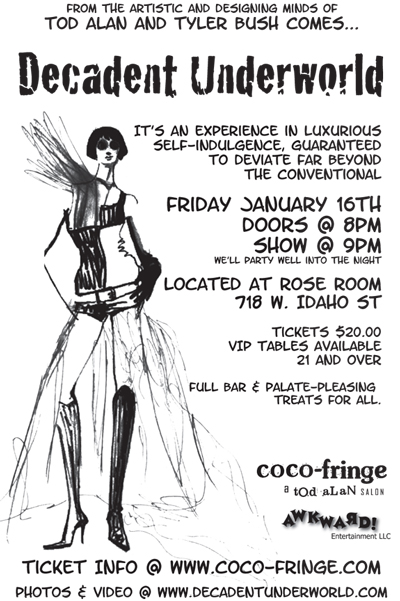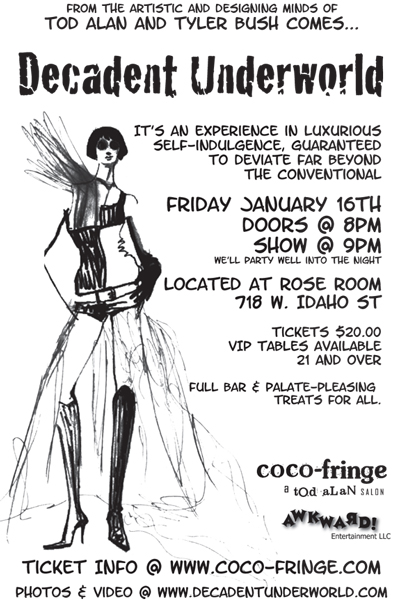 Decadent Underworld  will be an art piece in itself, Tyler Bush, A self-proclaimed Fashionista & Provocateur – Mostly known for being a Boise Socialite will be showing off his latest Video Vignettes that will showcase the decadent side of life. They will be featuring up and coming recording artist – Jared Michael, Boise's most notorious Drag Queen – Minerva Jayne , Former Miss Idaho – Misty Taylor and Fashion Show favorite Jason Gates. At the show you will experience museum like displays playing out before your very eyes. The last Video vignette will lead into a Live performance by Jared Michael debuting his newest single "Let The Music Play" Produced by Noah Hyde and  Grammy winning producer Art Hodge. Just when you think you have seen it all, Tod Alan will Shock and amaze you with his Avant-garde Fashion show. This is  haute couture never seen in Boise before. It will consist of over 40 models with professionally designed hair and makeup that is guaranteed to deviate far beyond the conventional. Tod Alan's shows always sell out and this one will be no exception. Decadent Underworld promises to be the premier event of 2009.
Minerva Jayne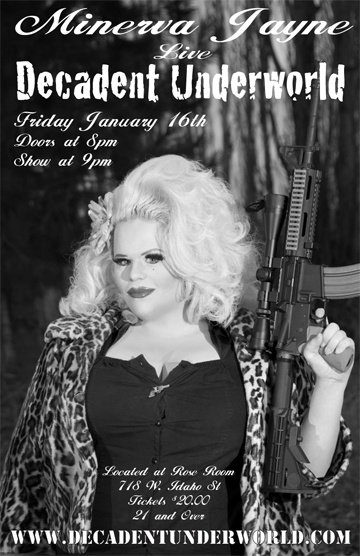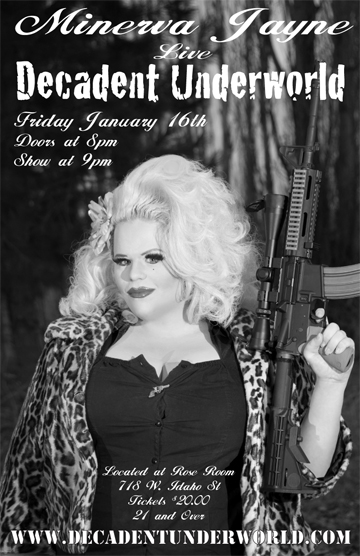 Minerva Jayne's Video for the Show…
---
Jared Michael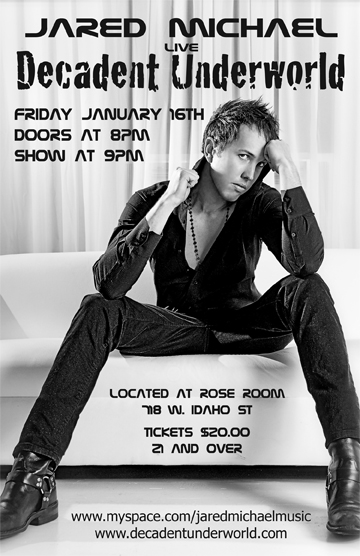 Jared's Music Video for the Show and Song…
---
Jason Gates & Misty Taylor
in Cake….
---
Photo Galleries Of Others
Idaho Statesman
---
Media On the Event…
Boise Weekly had this to say…..
That's Rich
Decadent Underworld is a multimedia extravaganza, concert and avant-garde fashion show all wrapped up in haute couture. Museum-like video displays by Tyler Bush show how decadent life can be and set the background for artist and designer Tod Alan's fashions. More than 40 models will sashay down the runway in one-of-a-kind designs all decked out in professional makeup and gravity defying hairstyles. Special guests include Boise's bombshell drag queen Minerva Jayne, former Miss Idaho Misty Taylor and fashion show favorite Jason Gates. As the videos fade to black, up-and-coming recording artist Jared Michael hits the stage to debut his newest single "Let The Music Play," produced by Noah Hyde and Grammy Award-winning producer Art Hodge. A full bar and treats keep the party going well into the night.
Doors 8 p.m., show at 9 p.m., $20, Rose Room, 718 W. Idaho St., Boise.
Raw Angles Photography had this to say…
The night got off to a slow start, and after a while we all wondered if the show would ever actually begin. However there was no mistaking that this was going to be an awesome night, when you looked around at all the excited smiling faces in the room, as well as lavish decorations (which included people) around the room.  Decadent Underworld finally began with a debut of the new single by Jared Michael "Let the Music Play" produced by Noah Hyde and Art Hodge. This show was put on by Tod Alan with Coco Fringe & Tyler Bush with Awkward Entertainment (who looked fabulous btw) in Boise Idaho. The attendance was amazing, there were 419 people there, I'd say this show has taken this sort of thing to a new level for Boise.  There were probably close to 50 models altogether ranging in sizes and age, which I think is very important for this area. The avante garde style was oozing off the models as they floated their way through the suffocating crowd ever so graciously in their massive costumes.  I was shooting paparazzi style and it was so much fun, I do wish I could have spent a bit more time talking and such but its ok, I'll have plenty of time to mingle at my show… 😉 Here are a few shots from the show. To see more and bigger sizes please visit www.rawangles.com and check the gallery scetion. or go to www.flickr.com/kevnaub.
Here is what Famefifteen had to say before the event…
---
Special thanks…
Photography by.. Daniel Jackson Dickman